Patience--a mindset point that I am working on for me. How about you?
I love the psalms for the real and raw nature of it. I love that this psalmist felt as if they were in a pit, I know I've felt that before. And yet he knew if he cried to the Lord that God would order things in such a way as to bring about firm standing and beautiful outcomes.
The beautiful outcome was so great for the psalmist that he sings praises to God and shares it all around so that others are in awe of God and begin to develop a relationship with Abba Father.
Patience and waiting on the Lord takes an act of choice and intention for me. I choose to work on my mindset, my daily habits, and my knowledge of God in the waiting.
I choose to not complain over and over to everyone around me. I choose to affirm that God will create the circumstances that are best for me and my family.
I choose to sing praises instead of sighing transforming my mind and heart with gratitude. Gratitude is the power that opens up space for God to move even more in our lives.
I choose wise counsel that knows God's word and speak life and blessings to me. I choose to work at what I know I can because God wants us actively working out our faith day by day not just passively expecting a miracle.
I choose to release control to Jesus Christ instead of trying to manipulate people and circumstances through negative actions and worry. I choose to pray blessings for others even when my heart is heavy and my mind is tired of the journey because God's word says those who bless will themselves be blessed and our eyes are opened when we pray for others.
I choose to wait with expectation and a listening ear and mind to the voice of the Lord. I choose to say I am looking with great excitement to see the hand of my God working all things for my good and His Kingdom glory.
I choose to affirm what God has done in the past and praise Him for what is coming. And then I remind myself and others of the glory and goodness of the Lord.
No matter what is happening right now my friends, choose--choose the path of life and blessings--praise, gratitude, thanksgiving, and planting yourself in His word.
*If you're ready to choose to invest in yourself, your success, your dreams, your health, your wealth, your relationships, your business etc. then reach out to me now and let's schedule a Success Breakthrough Session.
Let's pray: Dear Lord God Almighty, thank You for Your love and mercy! Thank You that we can cry to You and You hear our prayers.
Lord we don't always understand the why behind this broken world and our hard circumstances. But we understand that You can craft the outcomes and the opportunities that will bless us and bring forth an abundance of blessings in all of it.
Lord please help us to choose to grow through all that is happening in our lives. Help us not to complain but to praise and look with joy-filled eyes toward Your glorious hand working in our lives.
Jesus, You are our Good Shepherd that watches over us and we thank You Jesus! Please Lord rebuke the adversary and break his schemes from oppressing us. Please surround us with Your hedges of protection and lead us to the scripture we need to learn and grow on today.
Thank You Lord! We sing praises to Your name! We praise You that we can tell about all Your wonderful deeds and share our message with others for their growth and blessings too.
Praise You, Father, Son, and Holy Spirit, Amen!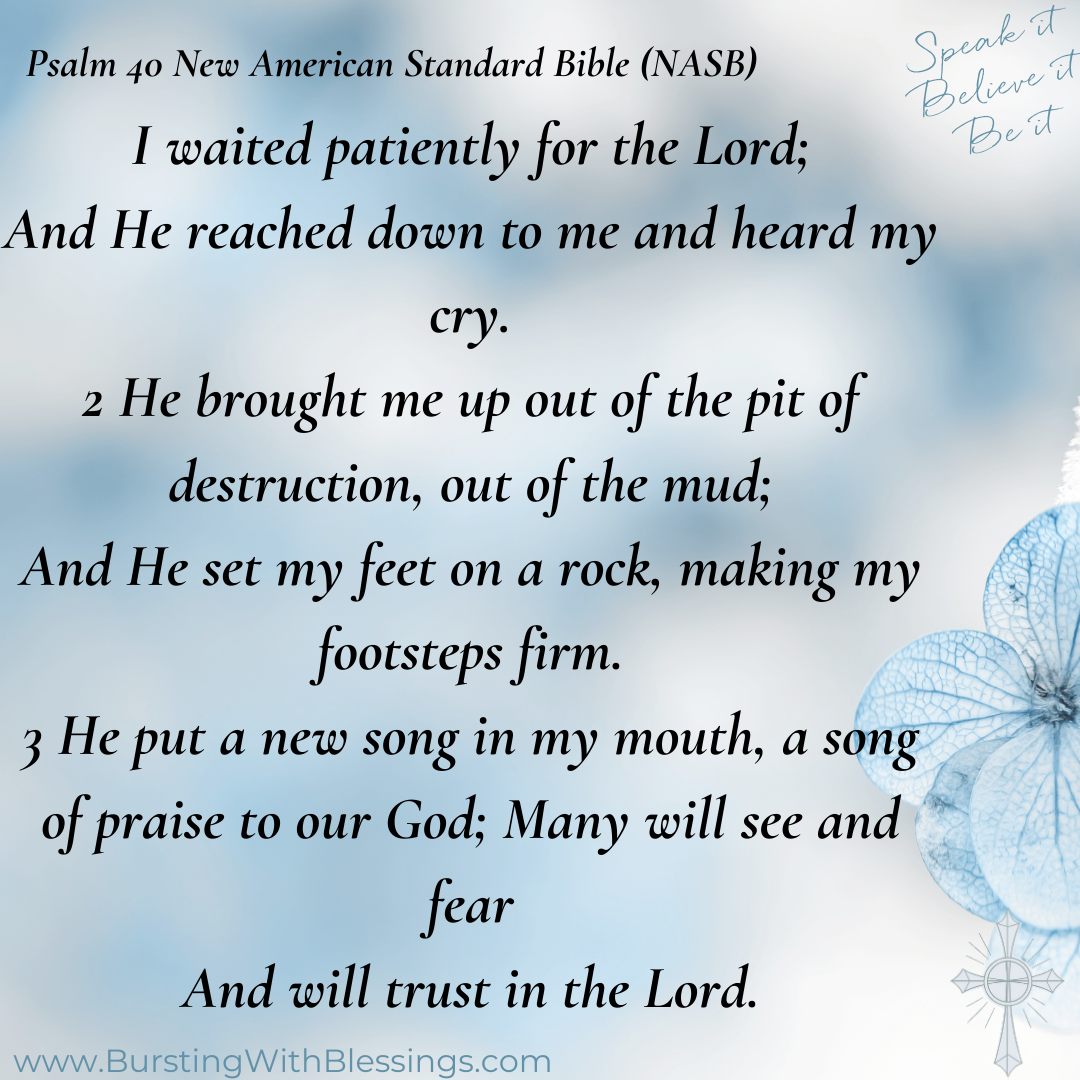 I empower women to become the miracle they seek--through learning how to speak the word of God to cultivate faithfulness, knowledge of your value, worth, gifts, and more.
I will help you create the confidence, the mindset, the actions, the joy, and the perseverance to thrive in all of life's circumstances both good and bad.
Come to this free Facebook community group for even more:  Blessed Christian Life Coaching by Leah