Are you searching for community that loves you no matter your past or present life circumstances--and where you can grow in mature thought and spirit?
You can create the blessings you want, the happiness you want, the marriage you want, the life, the business, etc!
It's ALL mindset! It's all about empowered thought and action! It's all about accountability in a loving and empowering way!
There's no need to shy away from the changes that feel hard, and the thoughts that feel embarrassing. Why? Because with my help change won't feel so drastically hard and unattainable.
I will post leadership mindset prompts, prayer prompts, life, love, health, and more throughout the week to prepare us for our group coaching and one one calls.
Group zoom coaching once a week and one 30 minute private coaching session each month to turn your life into the blessings you want.
Additionally VOXER voice messaging access to me during business hours.
We're going to lift each other up and I'm going to guide you through business thoughts coaching, life habits, spiritual wellness habits, and more, learning the tools that bring life and blessings.
This is a no judgement zone--it doesn't matter if you are a new Christ-follower, a come back to Christ-follower, a seasoned Christ-follower, or seeking His truth and salvation--this is your table.
There are no perfect people here--just people perfectly loved by God!
I will upload the content. I will send out the zoom link. I will lead us in prayer and we will share our life, our aha moments, our prayers, our tears, our praise, our encouragement as I guide you to see the mindset shifts you need to create the blessed, thriving life.  
I will coach you through all of your life circumstances so that you can empower yourself to become the miracle you are begging God for.
When you know you've had enough and are ready to take back your power then this is the group coaching program for you!
Don't delay lock in your $99. a month investment NOW! Investing in yourself always brings forth a hundredfold harvest of blessings.
Goes up to $250 a month in just a few short weeks:
*Referral program--currently 10% every month that the referral remains active.
Bursting With Blessing Group Christian Coaching with Leah
Book a breakthrough session if you are ready to explore Christian Life coaching with me LINK to my calendar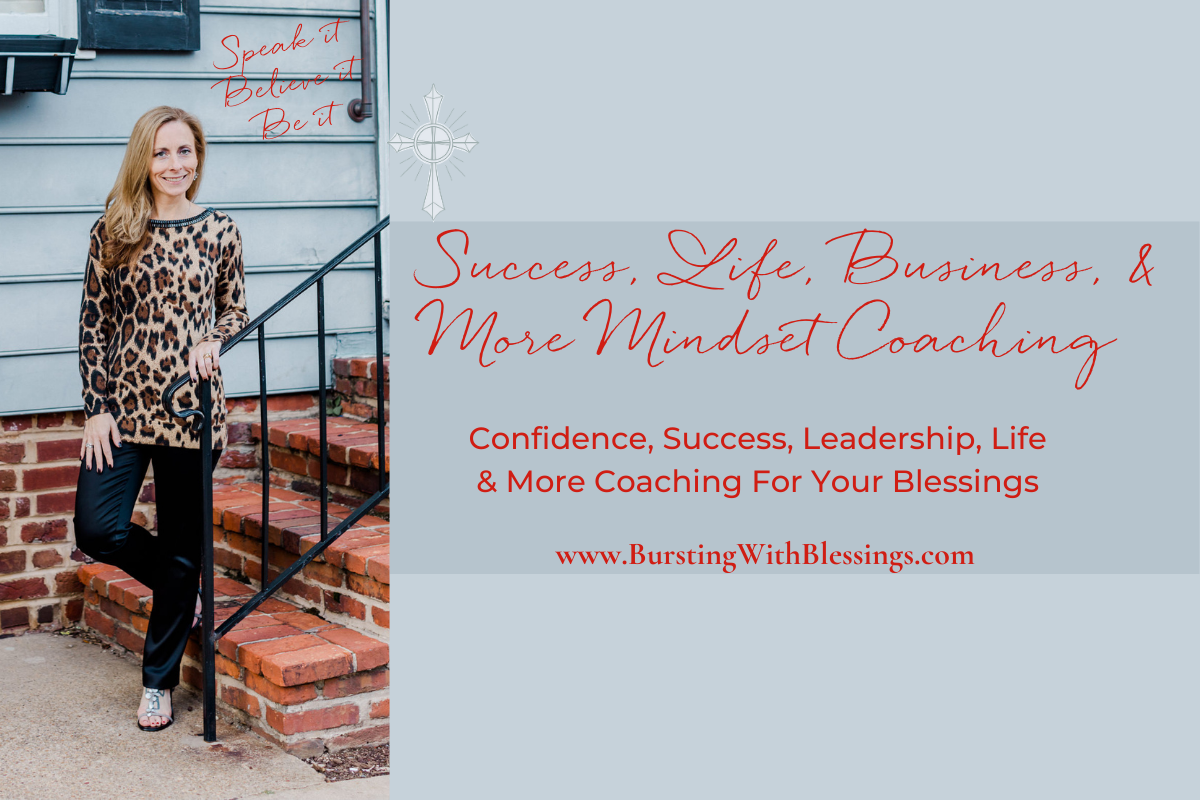 Leah Mason-Virgin empowers women to achieve the miracles they are asking God for by connecting them into His word, insights, Kingdom principles, and an empowered faith-filled mindset.
Leah's years in corporate, non-profits, healthcare, and other industries, in combination with her Faith Community Nursing and Life Coaching certifications, enable her to serve women in all areas of life. Her passion is to empower women so that they cultivate healthy mindsets, habits, relationships, businesses, spirituality, and overall life.
Leah's programs are Biblically based, empowering, insightful, and transformative.  Her clients often remark that their sessions produce amazing insights and mindset shifts that create an amazing faith-filled calm, joy, and strength to walk confidently and boldly in their gifts and calling.
Leah has a group coaching program, individualized and customized programs, courses, prayer workbooks, ebooks, and more to serve every single woman no matter where they are in life.
Leah is married to her soul-mate for over twenty years and they have three amazing and wonderful children.
You can connect with her in these platforms:
Facebook: https://www.facebook.com/BurstingWithBlessings/
https://www.facebook.com/groups/2103073383276195/ Private Group: Blessed Christian Life Coaching By Leah
Insta @ https://www.instagram.com/burstingwithblessings/
YouTube @ https://www.youtube.com/channel/UCEqfNHXOxEQlPRlUifvitww
Twitter @ https://twitter.com/LMasonVirgin
LinkedIn @ https://www.linkedin.com/in/leah-mason-virgin/